We understand that sinking feeling. That's why we're here to rescue you and your property.
For carpet flood damage or any property structural flood damage problem, act now! With our flood damage experts dispatched within 5 minutes of your call, your property can start within the hour.
STOP further costly secondary damage and CALL NOW for Melbourne's 24/7 premier emergency flood damage recovery service
We are professional, trained, accredited, and insured up to $20 million in public liability. We're ready to help dry out both residential and commercial properties.
Our expertise is in flood, water & fire damage cleaning, and restoration services. Whether you have a small domestic flood or large commercial facilities. We're equipped to get your property professionally restored.
Our portfolio of clients includes healthcare, education, hospitality, building sites, body corporates, industrial sites, and commercial buildings. We've worked with clients like MS, SVDP, Gary Peer, Cricket Australia, Medical Centres, Schools, and hotels.
We will restore damage from – Burst pipes, Burst Hot Water Service, Stormwater, Sewage Back flow, Washing Machine Leak, Bath overflows, and Fire & Mould Damage.
Trust your flooded property restoration to a Melbourne team where the care factor is 110%
Our expert team is here to help restore your property to its pre-flood condition. With our prompt and efficient services, you regain peace of mind.
Why choose us?
Get Started Today!
Don't delay the restoration process. Contact us now to schedule an assessment and get started with restoring your property.
Our expert team is here to help restore your property to its pre-flood condition. With our prompt and efficient services, you regain peace of mind.
Melbourne prone to flood damage
If your home has flooded in Melbourne, Australia, you're certainly not alone. Unfortunately, Melbourne is prone to heavy rainfall and flash floods, which can cause severe and expensive damage to homes. We also have pipes that burst, baths that overflow & washing machines that leak! Squeaky Clean Team is equipped to handle such emergencies and offers fast and efficient emergency flood damage restoration services. Including full structural drying service & carpet restoration and cleaning. Whether your home or workplace has been damaged due to heavy rainfall, a burst pipe, or a flash flood, we're here to help!
With our skilled technicians and state-of-the-art equipment. We can rapidly restore your property to its pre-flood condition in no time. Squeaky Clean Team provides top-notch services and helps you overcome the stress and discomfort of flood damage.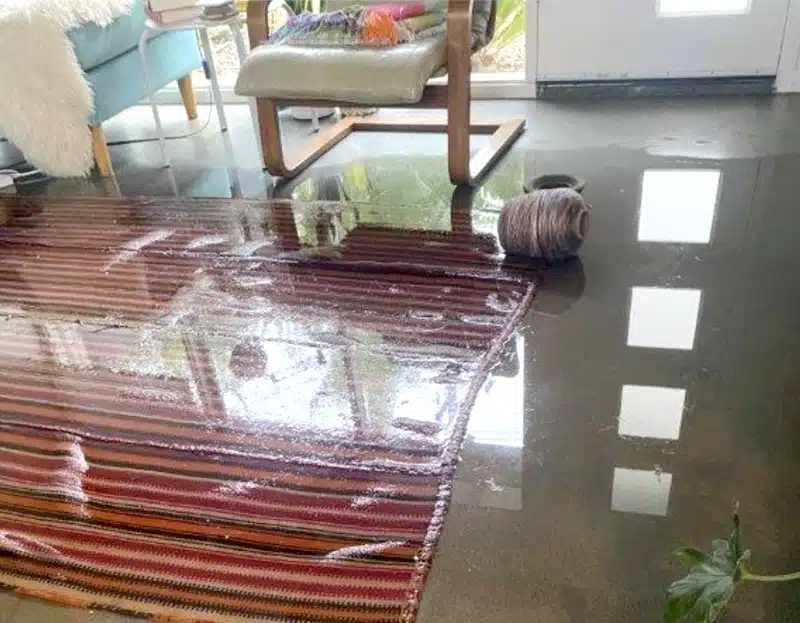 Flood damage restoration in Melbourne
Unfortunately, severe weather and flooding are a fact of life. When a storm hits an unrelenting torrential downpour ensues. Many homeowners are faced with costly damage and an unpleasant cleanup. And it's not just natural disasters that are responsible for flood damage. The burst pipe or even an overfilled bath can very quickly turn any room in your house into a flood zone. Fortunately, some things can be salvaged. If you act fast, the better your chances are of preventing further damage to your home and carpets. When you require prompt and efficient flood damage restoration services in Melbourne. Be sure to call the experts at the Squeaky Clean Team.
The best flood damage restoration in Melbourne
Flood damage to your property can be stressful as well as costly. Valuable assets can be damaged beyond repair and rooms may be made completely uninhabitable. For a business, the interruption to normal operations can hit profitability. It may even be terminal for a company if prolonged.
The most obvious damage is to floor coverings and items of furniture and equipment that are at floor level. However, there is additionally a degree of hidden damage that is not obvious and is more difficult to restore.
Different needs for Melbourne flood damage restoration
Flooding can occur for a variety of reasons and have different consequences depending on the source and type:
Clean water can result from burst pipes or leakages from appliances or tanks. Whilst this may not be a particular health threat, it can still damage a building's structure as well as carpets and furniture.
Grey water may be contaminated with urine or similar and contain micro-organisms that can cause damage to human health. Although the risk is moderate, prompt action and effective cleaning is still needed or it will get worse.
Black water may contain raw sewage and poses a very high risk to human health. It is also most unpleasant to remove as well as causing severe damage and so requires prompt and effective expert remediation.
Even relatively minor faults can cause significant damage if left unresolved for long periods. So action needs to be quick and undertaken properly so the problem doesn't become worse. But it also needs to be focused on the particular type of damage so that flood restoration is as effective as it can be.
If flood restoration isn't carried out quickly, the damage will become much worse and will be more difficult and more costly or even impossible to eradicate. Water will seep into walls and support beams, weakening and eventually even destroying them. It will also, especially if contaminated black water, cause mould and mildew to grow quickly and pose an ever-increasing hazard to health.
The professional way to restore flood damage in Melbourne
Flood damage restoration isn't something you can do yourself. The water seeps into carpets and underlay, into floorboards and the very fabric of buildings so needs to be removed completely. The damage cause by flooding is stressful enough without adding to that stress by trying, and generally failing, to restore it properly. Instead, use a professional service to do the job properly and rely on your insurance to cover the cost.
In need of flood damage carpet restoration in Melbourne?
Here at The Squeaky Clean Team, we're fully experienced in restoring flood damage. We have a well-tried and trusted process to deal with problems. We'll:
fully inspect and assess the damage to establish what needs to be done
make sure the building is safe and remove property to limit further damage
lift carpets and underlay so wet floors are exposed
dry out the property with powerful dehumidifiers and dryers
monitor the drying throughout using moisture sensors to measure progress of drying & that dry on completion
re-plaster and re-grout where necessary and apply mould treatment to prevent growth
dry carpets and underlay then relay and re-stretch in position
steam clean and deodorise carpets to remove water & other stains and restore to it to it's prime condition
Our aim is to restore your flooded carpet and property as quickly and effectively as possible, with minimum disruption, so you can get on with your life as before. No fuss, no stress, just a professional and efficient service done by a team with 110% Care Factor
Flood damage consequences
It doesn't matter whether the cause is natural flooding, a faulty dishwasher or a burst pipe – flooding in the home isn't just an inconvenience, but it can also be potentially dangerous. Having flood damage restoration carried out quickly is important in order to avoid the following problems:
Flooding can seriously damage the carpet in your house and end up being very costly. Carpet is expensive to replace, but fortunately in many cases it can be restored – if you act quickly. When flooding occurs, carpet is one of the first things to be submerged in water, and if left too long, it can quickly begin to delaminate and develop mould.
Once mould has begun to grow, the carpet may have to be replaced entirely, as it can present a serious health risk and can also begin to rot. By immediately soaking up water with towels and calling a professional carpet cleaning company that specialises in flood damage restoration, you'll be improving your chances of saving your precious carpets.
When not taken care of immediately, flooding can cause structural damage to your home. There are a variety of ways your house can become susceptible to flooding and water damage, and some properties are more at risk than others. Regardless of this, if flooding occurs, there are a number of signs you can look for in order to determine whether or not your property has sustained structural damage as a result of flooding. These signs include:
Warped and buckled floorboards – This can indicate serious water damage that should be addressed by a professional.
Swollen and soft drywall – When moisture has made its way into your house, one of the results can be damage to the drywall. If you see signs of this, it is time to call in the professionals.
In addition to structural damage to your home, water damage can also pose a threat to you and your family's health. Damp and moist conditions that occur as a result of flooding can cause mould and mildew to thrive. When mould spores become airborne, they can result in allergic reactions, respiratory problems and infections. This is especially bad for those with compromised respiratory or immune systems, as spores can settle in the body, grow, and become a serious health threat.
When it comes to flood damage to your property, several things should be immediately done to protect you and your family's health as well as salvage carpet and property –
Turn off electricity mains
If your property has suffered flood damage as the result of a natural disaster or a burst pipe, the first thing you should do is ensure the safety of all occupants and turn off the electricity at the mains. Electricity and water don't mix, so the best way to avoid serious injury or even death is to immediately switch off the electricity at the mains before beginning the clean up.
Call flood damage professionals immediately
Once the electricity is safely turned off, the first thing you should do is call a professional Water Damage Restoration Company like the Squeaky Clean Team that's available 24/7 for flood damage emergencies. The sooner you call a professional, the better your chances are of salvaging your carpet and other household items.
Professionals will usually be dispatched immediately, but while they're on their way to your property, you can begin the process of removing excess water yourself with buckets, mops and towels. Once you have removed as much flood water as possible, you should remove all furniture, including tables, chairs and sofas.
If the cause of the water damage isn't from a storm or other type of natural flooding, switching the water off completely at the mains as this will stop further flooding if the flooding is linked directly to your water supply.
If you believe the cause of the flooding is a burst pipe or a leak in your household plumbing, it's a good idea to call a plumber. It's going to be very difficult for water damage restoration professionals to begin their clean up if the house is continuing to flood, so stemming the flow of water is crucial. If you're not sure of the source of the flood waters, the sooner you call a plumber, the sooner they will be able to locate the problem. Plumbers are experienced when it comes to leaking pipes, giving them the expertise to quickly find the cause of flooding quickly and also show you how to locate and turn off the water mains. Calling a plumber without delay can also save you money, as the longer you leave flood waters, the worse the damage and clean up costs will be.
What does flood damage restoration involve?
Any flood damage restoration expert will attest to the fact that time is of the essence if carpet and property is going to be successfully salvaged after flood damage has occurred, so for the best results, it's imperative that you call professionals as soon as possible. Once flood damage restoration experts arrive on the scene, they will assess the situation and advise on the Scope of Works required to restore the property.
The works will involve removing all excess water and using industrial strength dehumidifiers and fans to dry all the affected structural surfaces & the carpet. The time to dry the property will depend on the severity of the flooding and the amount of time that has passed between the flooding occurring and the flood damage restoration process beginning. If there is carpet the subfloor beneath will likely be wet & the carpet may need lifting to allow the drying of the subfloor. Concrete subfloors, skirting boards & plaster walls are porous & will absorb the water causing further damage here. Responding quickly when water ingresses will help minimise such secondary damage.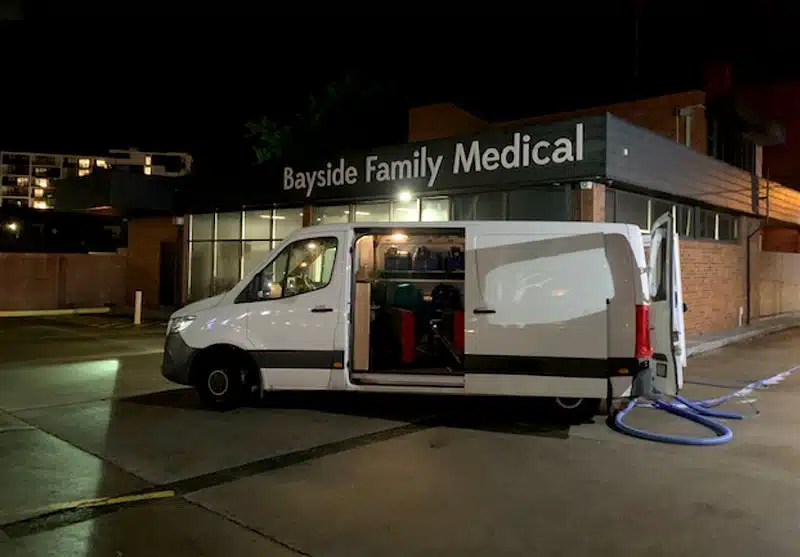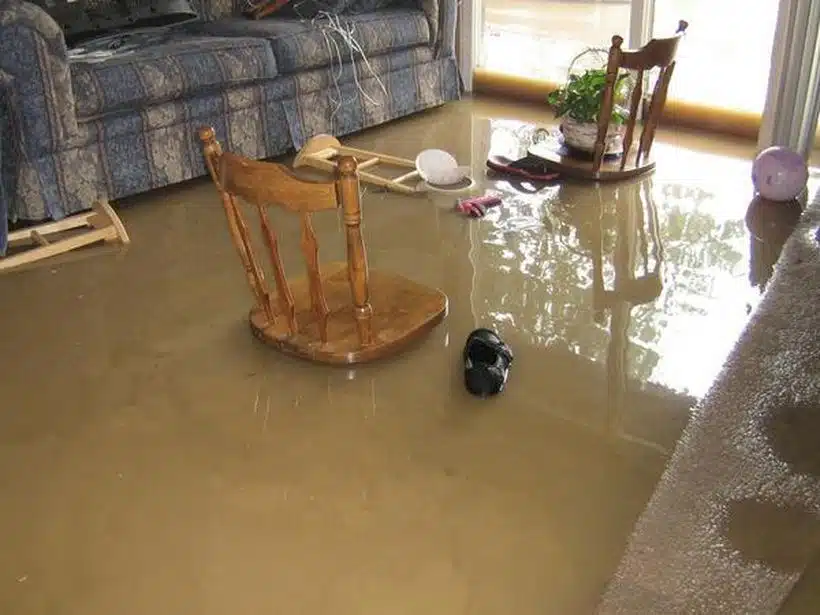 The Squeaky Clean Team – Experts in flood damage restoration
Whether it's a raging storm or a burst water pipe, when disaster strikes, the Squeaky Clean Team can provide fast assistance. Call us to enjoy the benefits and money savings that come with prompt flood damage restoration. We can potentially help save you thousands of dollars by salvaging your sodden carpets and limiting secondary structural damage, but you have to act fast! The sooner you call, the faster our team of professionals can begin the flood restoration process – and the higher the chances will be of your property & carpet being saved.
24/7 emergency assistance for homes and workplaces
The Squeaky Clean Team services the entire Melbourne metropolitan area and has years of experience in flood damage restoration. for both homes and businesses.
Home flood damage restoration
The highly experienced Squeaky Clean Team knows how special your home is to you. We will do everything we can to help you salvage your carpets in the event of a flood, whether it's a result of a natural disaster or burst water pipes. Call us anytime day or night and we will be there as soon as possible to begin the restoration process and have your home looking great once again.
Workplace and office flood damage restoration
The Squeaky Clean Team can also help when it comes to flooded offices and workplaces. Time is money, so when your workplace experiences flooding, you need to get it resolved as soon as possible. Fortunately, we offer a 24 hour, seven day a week service to get you back up and running without delay.
When you call us for flood damage restoration, you can rest assured you're going to get a quick response. We know that pipes can burst at 2 am in the morning just as easily as they can burst at 3 pm in the afternoon, and we also know that waiting until the next day can mean the difference between restoring flooded carpets and replacing them.
As soon as you call us, no matter what time of the day or night, we will be there as soon as possible to begin the flood damage restoration process and save you the expense of replacing all your carpets. We have years of experience behind us and our team is dedicated to getting the job done and getting it done right.