DIY flood & water damage restoration tips
As local industry experts, we understand just how heart-breaking water damage can be for Melbourne property owners. When a home or commercial property floods, it can completely destroy valuable items and, if left, can even impact the structural integrity of your property. This is why you need to act quickly to minimise the damage.
And if you want to fix the damage yourself, below we detail what you need to do. For free information or advice, please call our friendly team 24/7/365.
And if you feel overwhelmed we're here to help get you dry fast.
Call our flood damage Melbourne team as soon as possible!
Don't let water damage destroy your property and possessions
Emergency service will be at your door in 60 minutes or less
Melbourne water damage experts: your partner in disaster recovery
Emergency carpet & structural drying technology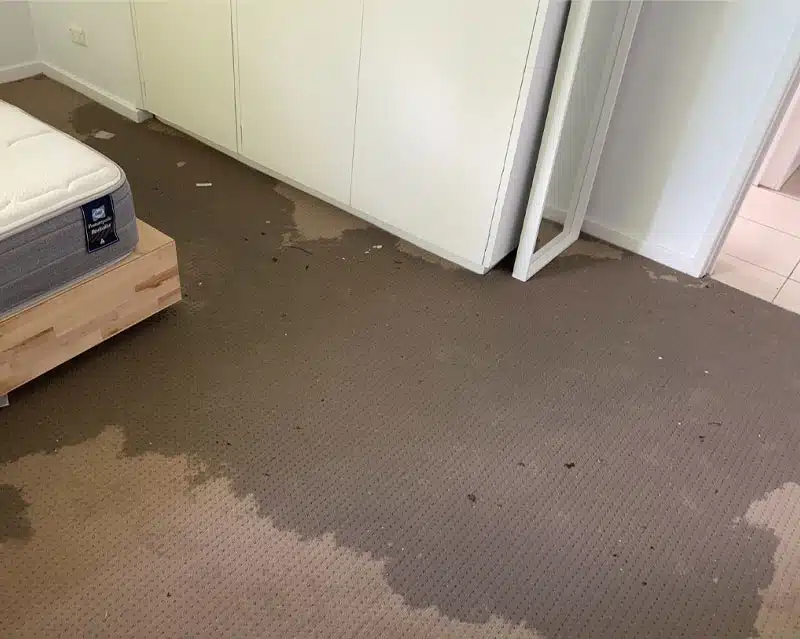 Act now before water damage impacts structural support
We offer a wide range of water damage services, including water extraction, flood damage carpet cleaning and emergency carpet drying. We also thoroughly dry out structures, such as walls, floors, and foundations, using evaporating moisture tools and equipment to ensure no further damage can take place. Trust our Melbourne water damage repair team to respond, repair and restore your property quickly and professionally.
For a FREE no, obligation quote
Melbourne prone to flood damage
If your home has flooded in Melbourne, Australia, you're certainly not alone. Unfortunately, Melbourne is prone to heavy rainfall and flash floods, which can cause severe and expensive damage to homes. We also have pipes that burst, bathe that overflow & washing machines that leak! Squeaky Clean Team is equipped to handle such emergencies and offers fast and efficient emergency flood damage carpet cleaning and structural drying services. Whether your home or workplace has been damaged due to heavy rainfall, a burst pipe, or a flash flood, we're here to help!
With our skilled technicians and state-of-the-art equipment, we can rapidly restore your home back to its pre-flood condition in no time. Trust Squeaky Clean Team to provide top-notch services and help you overcome the stress and discomfort of flood damage.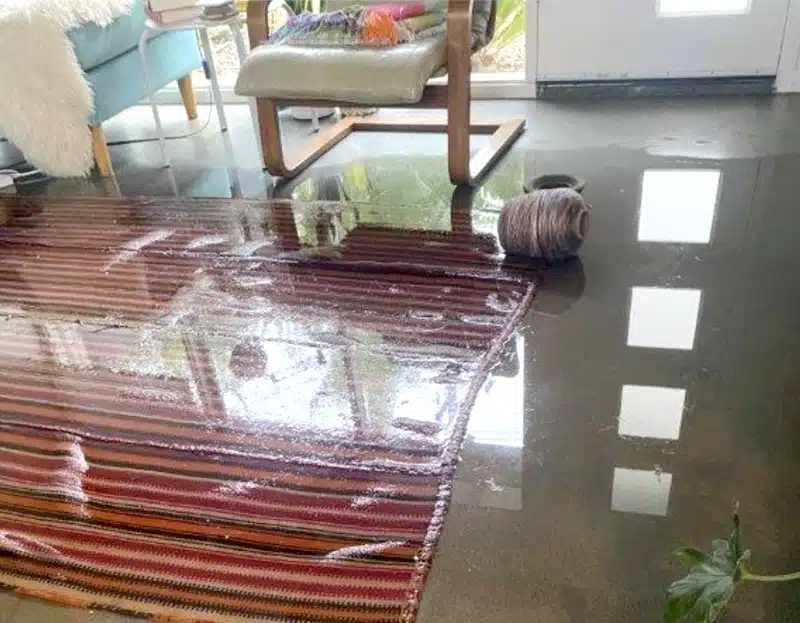 5 crucial steps to follow for DIY flood restoration
Want to try and dry out your property yourself? If you're seeking DIY water damage restoration tips, you've come to the right place. At The Squeaky Clean Team, we know there's a lot of misinformation floating around on the internet regarding how to correctly carry out flood restoration. That's why we've written this page, providing you with reliable, high-quality information on what to do when it comes to DIY flood restoration – and most importantly, what not to do. We're also here to help at every step of the way with free advice as well as affordable equipment hire.
First – Don't panic! But do turn off the water supply & remove any electronics
There are many reasons why you might be searching for "how to dry wet carpet". Whether your washing machine has overflowed, your hot water system is leaking or a pipe has burst, the end result is the same: wet carpets that need drying, and fast. However, it's important not to panic. While you will need to turn off the water supply and remove any electronics straight away, most flood damage can be rectified even if it's been a day or two since the flooding occurred. So while acting fast is important, it's more important to stay calm and avoid resorting to unproven flood restoration methods you've found on the internet that could cause more damage – such as applying bicarbonate soda to wet carpet. DO NOT DO THIS. Instead, follow the steps below for a method you can rely on.
Our 5 step plan for DIY floor restoration
The very first thing you should do is stop the leak. If you're unable to resolve the cause of flooding yourself, we recommend turning mains water off and calling a plumber. Once the flooding has stopped, you should remove all electronic items from the affected area. Water and electricity don't mix, so this should be done as soon as you can. Once the area is safe, you can get started with restoration.
Below, we detail a simple 5 step plan you can follow to effectively dry wet carpet in the minimum amount of time. And remember, if you start feeling daunted at any stage, free advice is on hand – simply call us on 1300 682 563 between the hours of 9am to 6pm.
Step #1 – Identify the affected areas & the exact damage
If you're facing wet carpet, you have to worry about water wicking up the walls and skirting boards and into your cabinetry. Take a good look around to see where the water has reached so you can determine the affected areas and any damage that's occurred. Make sure you look along all surfaces. Water will be hidden under the carpets, so it's worthwhile lifting up the carpet. The underlay and subfloor will be wet too. In order to lift up your carpets, you must first remove all furniture from the affected area. It's vital that anything metal or wood is also removed, as metal will rust and tannin from wood will run, both of which will stain your carpet. Unfortunately, anything made from chipboard that's been exposed to water will need to be replaced due to the swelling that occurs.
Bear in mind, the following may need drying:
Carpet, underlay & subfloor
Ceilings & walls, including cavities
Cupboards
Skirting boards
Door jambs
Step #2 – Get the tools required for drying
The next step is getting the tools and equipment required for drying. When you have a flood, you need to extract the water and dry it using two types of machines – air movers and dehumidifiers. Air movers provide air circulation, while dehumidifiers extract water from the circulated air.
You will also need a wet vac or carpet cleaning machine to extract water from the carpet. Do not think that carpet steam cleaning will fix the problem – it will only result in the carpet becoming even wetter. Instead, use a carpet cleaning machine or wet vac to extract the water only. If you don't have access to a professional carpet cleaning machine, The Squeaky Clean Team can help extract the water for you.
You'll also need to get a hold of air movers, which are fans specifically designed for drying carpets and floors. Dehumidifiers will also be necessary to extract the water from the environment. As a general rule, a flooded bedroom will need one dehumidifier and one air mover, while a lounge room will require two air movers and possibly two dehumidifiers. The air mover and dehumidifier can only work in one direction, so if water has gone around a corner, you'll need more equipment.
Finally, you may need a pair of pliers for pulling up carpet so you can see how far the water's gone – it's usually further than you think!
Step #3 – Extraction & placement of equipment
Extraction
To extract water, simply run the head of a carpet cleaning machine against the carpet. You'll need to really push down on the extraction head so you extract as much water as you physically can. This will remove a lot of water, but not all of it. You'll still need drying equipment or else mould will soon become an even bigger and more costly problem to fix.
Please remember that just cleaning the carpet will make the problem worse, as you end up putting more water into the carpet rather than removing it. Don't do this! You can hire a carpet cleaner to just do water extraction, but you'll still need to use the drying equipment.
Placement Of Equipment
There are two options available to you for drying:
Top dry – Take the air mover and simply put it on top of the carpet, so the air is pushed out along the carpet and causes evaporation. In conjunction with the dehumidifier, the water will begin to evaporate.
Float the carpet – This is the most efficient method. It involves lifting up the corner of the carpet in a room and folding it back on itself so it forms a triangle. Place the air mover under the carpet, but on top of the underlay. This will float the carpet and help to dry it faster.
The most expensive component of drying is the equipment. If you top dry, it's going to take about a week. If you use the floating method, it's going to take about two days. It's a much faster method and will ultimately save you money.
Step #4 – Monitor the drying process
The next step is to monitor the drying process to ensure progress is being made. A moisture metre can be used for this, but if you don't have one, you can also manually inspect the carpet. With carpet, there are three layers that have to be dried: the carpet itself, the underlay and the subfloor. The carpet is normally made from manmade or wool materials and will be kept in place with smooth edge, which is a piece of wood with lots of nails in it. When gently lifting carpet up using a pair of pliers, you'll see underlay and the subfloor, which could be concrete, wooden floorboard or yellow tongue.
The most common type of underlay is foam underlay, which is like a sponge. The foam has a layer of plastic holding it in place which can 'trap' water, making drying more difficult. For a day, try floating the carpet, then on the second day, place the air mover under the underlay (foam only) to dry the subfloor. All three layers must be dry. Concrete can be dried out within two days, while wooden floorboards or yellow tongue may take up to three days. Once all layers are dry, the pulled up carpet can be reinstalled.
Step #5 – Clean the carpet
After the carpet, underlay and subfloor are dry, only then is it time to worry about cleaning the carpet. When a carpet gets wet, it gets full of bacteria and can also brown due to the back of the carpet bleeding through. To prevent this from happening, you can spray with an antibacterial product like white vinegar over the top of the carpet from a pump up spray bottle. This will prevent discolouration while also killing any bacteria.
Something else to keep in mind is that when a carpet gets wet, it's likely going to stink. This can be for two reasons: firstly, it could be wool carpet, which will always smell when it gets wet. Secondly, the carpet could be full of bacteria, which is an indication that it's been wet for quite a period of time.
Once the carpet is completely dry, you can arrange steam cleaning for a thorough clean. If your flooding involved sewage, special steps must be taken to ensure a sanitary result. Call us for free advice or to take advantage of our sanitisation services.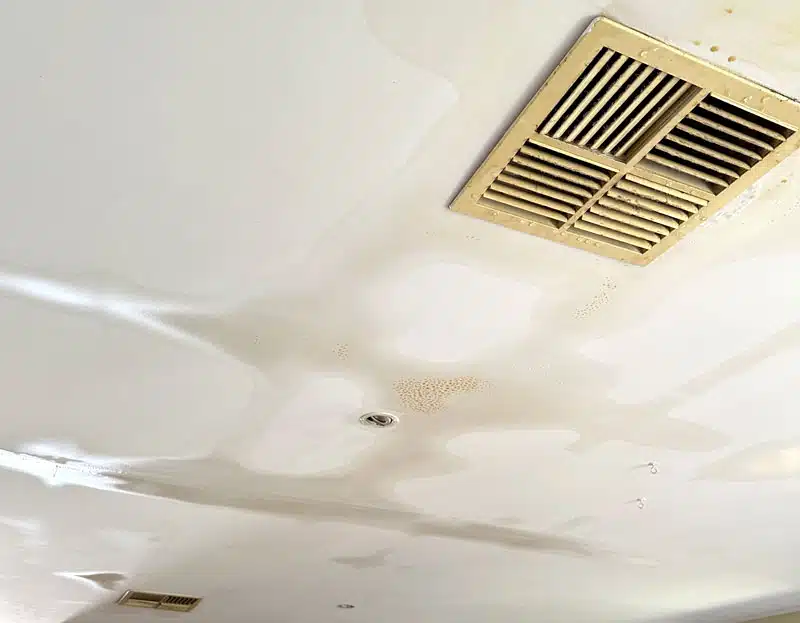 Frequently asked questions