The best process of wet carpet drying Melbourne
Not all floods need end in tears!
Are you dealing with a waterlogged carpet crisis and need an emergency carpet drying service? Don't worry, we're here to help you wet carpet drying process quickly and effectively. When water damage strikes your home or office, it can be a distressing experience, especially when your carpet is affected. But fear not! Our Wet Carpet Drying Melbourne Service is your trusted partner in restoring your carpet and preventing further harm to your property in Melbourne and the Mornington Peninsula.
Prevent Water Damage from Ruining Your Property and Belongings
Our Emergency Service Will Arrive at Your door in 60 minutes or less
Melbourne's Water Damage Experts: Your Trusted Disaster Recovery Partner
Cutting-Edge Emergency Carpet Drying and structural Drying Technology
Why Professional Water Damage Restoration Matters
Leaving water untreated in your home or office can lead to severe structural damage and health risks for occupants. Unaddressed water damage can result in mould growth, mildew, and harmful bacteria, jeopardizing your health and well-being. That's why it's crucial to seek professional help promptly.
Our team of experienced professionals employs state-of-the-art equipment to assess the extent of the damage, extract the water, and thoroughly dry the affected area. We're available 24/7, and our swift response ensures your peace of mind.
For a FREE no, obligation quote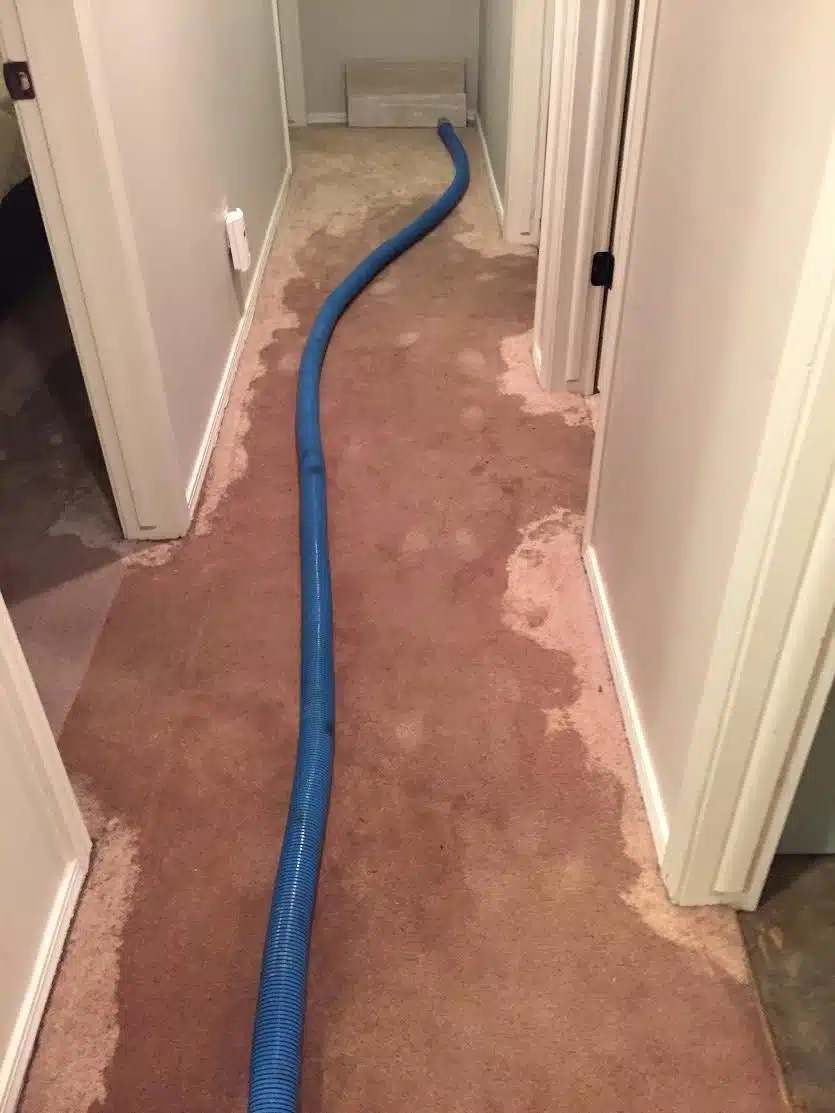 Our Comprehensive Services to Get You Dry Quickly
We offer a wide range of services to address your water damage restoration needs, including:
Why choose us?
At the Squeaky Clean Team, we understand the stress and urgency of water damage restoration. That's why we are dedicated to delivering fast and effective services that are tailored to your specific needs. Our certified and experienced professionals use only the best equipment and techniques to ensure your complete satisfaction. Check out our reviews to see why we're the trusted choice.
If you're facing with water-damaged carpet, our team is available 24/7 to assist you with your water-damage restoration needs like emergency carpet drying service. Contact us today to begin the journey toward restoring your home or business to a safe and healthy state.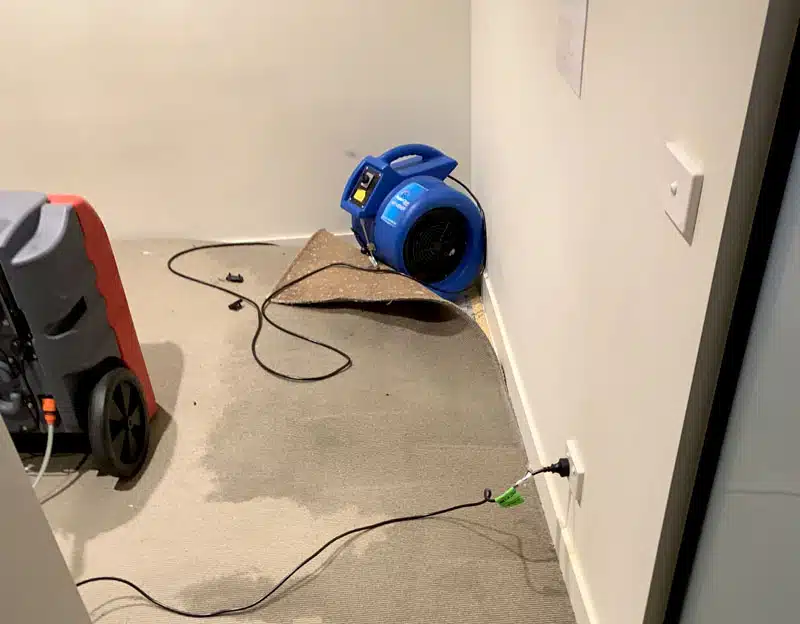 Why Choose Us for Wet Carpet Drying Melbourne
When water damage strikes your carpets, you need a trusted and reliable partner to help you recover quickly. At Squeaky Clean Team, we've honed our wet carpet drying techniques over the years, ensuring that no matter how severe the flood damage, your flooring can be saved.
Send Us a Photo for Quick Assessment
If you're staring at a soaked carpet and feeling overwhelmed, don't worry. Snap a quick photo of the damage with your phone, and we'll provide you with free advice based on what we see. Time is crucial when dealing with wet carpet—the longer you wait to call our experts, the greater the risk of long-term damage. Not only will your carpet be affected, but water can also wick up walls, causing damage to skirting boards and cupboards. Mould is a common problem in such cases and can pose significant health risks when left untreated.
We Dry Wet Carpets Quickly and Thoroughly
Our team of carpet drying specialists takes control of the situation from the moment you contact us. We employ tried-and-tested carpet drying methods to restore your property and carpet to their showroom-worthy appearance. Whether it's a small apartment or a large office complex, we have the equipment and expertise to handle the job quickly and effectively.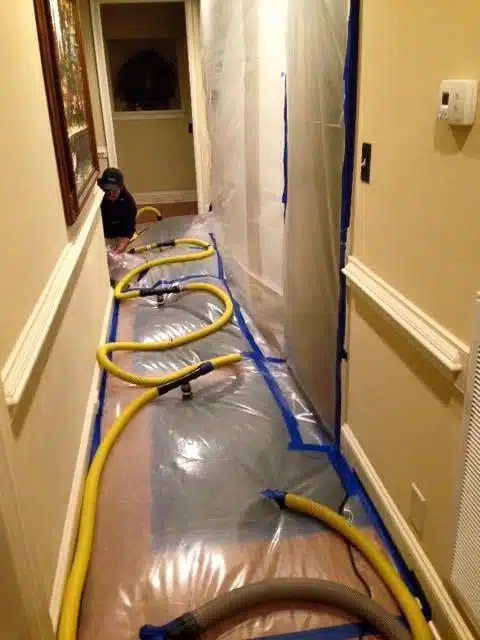 Send us a photo of your wet carpet
Our team of carpet restoration experts specialize in dealing with flood damage. So don't panic. Whip out your phone, and take a quick photo of the damage. We'll be able to offer you some free advice based on what we see & what needs doing to get you dry.
But time is of the essence when you need to dry wet carpet quickly. The longer you wait to call our team of experts, the greater the chance of long-term damage. And it won't just be your carpet that's affected. If left for long the water will start to 'wick' up walls & cause damage to skirting boards & cupboards. Our flood damage experts see secondary damage in Melbourne homes all the time. Mould is a common problem. And when it's left untreated, it can cause significant health problems.
Whether it's 1m2 of carpet or the entire property that's saturated, our team has the skills and equipment needed to dry your wet carpet fast!
Call Our Friendly Team 24/7 for Wet Carpet Drying service in Melbourne
We Dry Wet Carpets for Residential and Commercial Clients
Our team of carpet-drying heroes has served both Melbourne's prestigious businesses and residents. We've assisted Cricket Australia, the Multiple Sclerosis charity's main sorting depot, St. Vincent de Paul shops, and even helped dry carpets in a 3rd-floor apartment in St. Kilda. No job is too big or too small
Why Trust Squeaky Clean Team
Squeaky Clean is the go-to service when you need to dry wet carpets. We are the preferred restorer for some of Melbourne's largest real estate firms, including Gary Peer, Belle Property, and Biggin & Scott. Our extensive client base keeps coming back to us because we consistently deliver thorough and professional services, saving them time and hassle.
The Importance of Quick Wet Carpet Drying
A wet carpet will deteriorate over time, with padding and fibres breaking down (delamination) and underlay or padding deteriorating. However, the most critical concern is mould growth. If mould spreads to walls and floorboards, it becomes a more complex and costly problem to address. Mould can exacerbate respiratory issues and pose long-term health risks.
To prevent this, it's crucial to dry wet carpets rapidly and thoroughly, leaving no moisture behind. This requires specialised equipment, swift action, and expertise—qualities you can count on with Squeaky Clean.
Our Expert Drying Process
We harness the power of evaporation to dry wet carpets as rapidly as possible. We install air movers to facilitate air circulation and dehumidifiers to extract moisture from the wet surfaces. This includes floors, walls, skirting boards, cupboards, ceilings, and any furniture in the vicinity—part of our five-stage approach to drying wet carpets quickly.
Our team will first assess the specific nature of the flood damage to your property. They'll then formulate a plan of action based on years of experience.
The first thing to do is extract the excess water that's lurking in and underneath your carpets. We do this with either powerful portable or large truck-mounted industrial extraction machines. Once the excess water is extracted from your carpet, we turn to getting the underlay, floor & anything else that got wet, dry. We do this with the combined use of air movers & dehumidifiers.
Air that's circulated around water-damaged carpet will pick up the moisture as it passes. We place industrial-strength air blowers strategically to move air around the affected room. The moisture picked up in this way by the moving air is then sucked out by large dehumidifiers.
When properties flood, humidity levels rise. This means there is more moisture in the air. And humidity tends to linger if you don't take action. If the moist air is not removed it can get into the walls, floors, and furniture — causing secondary damage, mould and unwanted smells over time. That's why we use industrial dehumidifiers to extract the moisture in the air.
Once we're happy your carpets are moisture-free, we use industrial steam cleaning machines, together with our specially formulated cleaning agents, to deep clean your carpets removing all traces of dirt, bacteria and odours. It's our mission to leave you with carpets in showroom condition.
We Offer Turnkey Water Damage Restoration
Dealing with a home flood can be a stressful experience, and you may want to leave it to the experts. Our team of water damage experts implements a five-step water damage restoration process to get your property back to its best. If required, we can supply and replace any damaged carpet or flooring. We can also provide experienced handymen to fix water-damaged fixtures, including paint, walls, ceilings, doors, skirting, and more.
Act Now to Save Your Carpets
When you need wet carpet drying services promptly, reach out to our specialist carpet dryers at any time of the day by calling 1300-682-563. Acting swiftly increases the chances of saving your carpets from irreparable damage.
The Squeaky Clean Team is Melbourne's Premier Carpet, Upholstery, Tile, and Grout Cleaning Team. We Also Specialise in Restoring Water-Damaged Property and Carpets Across Melbourne and the Mornington Peninsula.