Commercial water damage restoration in Melbourne
Is your business grappling with the aftermath of severe weather or an unforeseen plumbing disaster? For around-the-clock Emergency Water & Flood Damage Restoration in Melbourne, trust The Squeaky Clean Team to get your business back on track!
Facing the aftermath of a flood can be overwhelming. You need a team that goes the extra mile – choose The Squeaky Clean Team for unwavering commitment and 110% Care Factor.
Don't let water damage destroy your commercial property
Emergency service will be at your door in 60 minutes or less
Your trusted partner in water disaster recovery
Experts in emergency carpet and structural drying solutions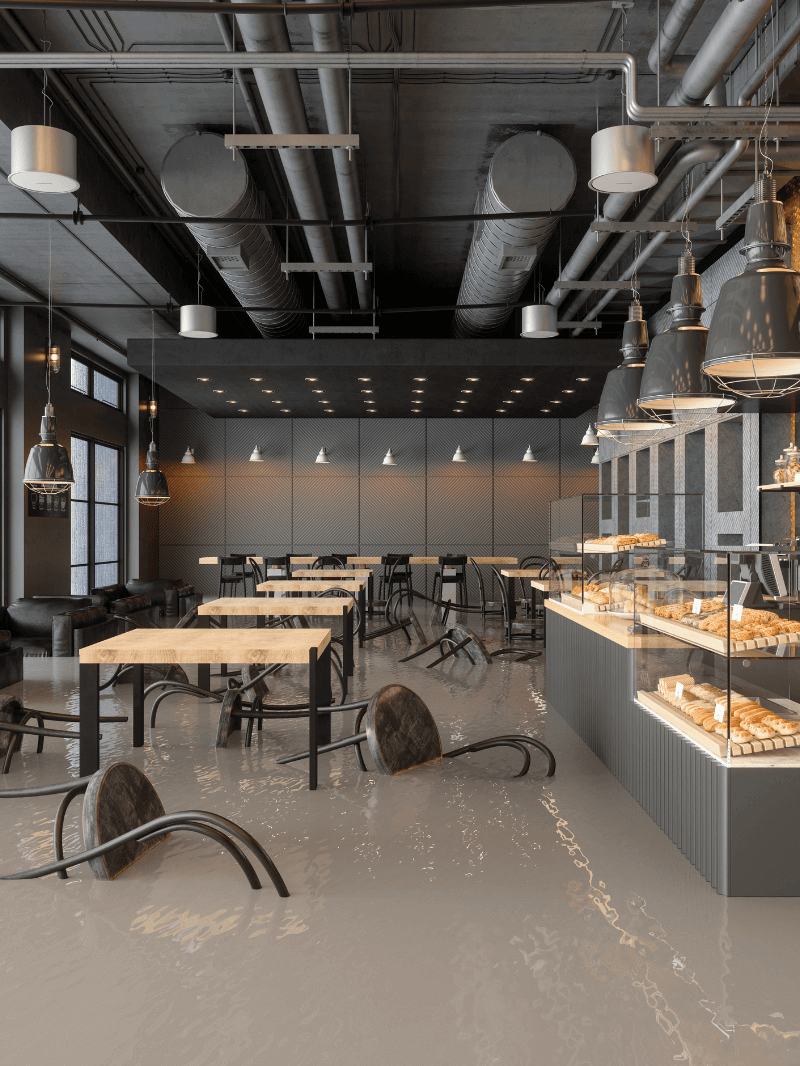 Trusted in Melbourne for commercial water damage restoration services
We Handle Properties of All Sizes!
Whether you own a small office or a sprawling warehouse, we have the expertise to restore your water-damaged property effectively and efficiently.
Our portfolio of clients includes healthcare, education, hospitality, building sites, body corporates, industrial sites, and commercial buildings. Our corporate clients include the MS & SVDP charities, Real Estate Agents including Gary Peer, Cricket Australia, Medical Centres, Schools, and hotels.
We will restore damage from – Burst pipes, Burst Hot Water Service, Stormwater, Sewage Back flow, and Fire & Mould Damage.
Immediate assessment of your water-damaged property.
Rapid initiation of drying and restoration processes.
Minimising potential short and long-term structural and property damage.
Our team is skilled in water extraction, drying & dehumidification, mould removal, and smoke and odour removal. We utilise cutting-edge technology, including air movers and dehumidifiers, to restore your property and carpets to their original condition. We provide same-day emergency services for commercial premises across Melbourne.
Leasing a commercial property?
We work hand-in-hand with tenants, property managers, and landlords to coordinate and expedite water damage repairs.
Our team prides itself on its extensive experience in dealing with property managers and landlords, setting us apart from our competitors. We go the extra mile to ensure the interests of our clients (both landlords and tenants) are protected.
Why choose the Squeaky Clean Team for water damage restoration in Melbourne?
With our skilled technicians and state-of-the-art equipment, we can rapidly restore your office back to its pre-flood condition in no time. Trust Squeaky Clean Team to provide top-notch services and help you overcome the stress and discomfort of flood damage.
When you run a business or office, it's important to ensure your premises are clean, Commercial Flood Damage hygienic, and presentable at all times. Whether a wild storm has caused a leak in your roof or a window has broken overnight and let in a torrential downpour, the last thing you want is for a waterlogged carpet to look and smell bad in front of employees and customers. Fortunately, you can rely on the Squeaky Clean Team to provide prompt and efficient commercial water damage restoration services.
Using state-of-the-art equipment, including high quality air movers and dehumidifiers, our experienced team will endeavour to restore your carpets back to their original condition. Plus because we understand the urgent nature of water-logged carpet restorations, we offer same-day services for commercial premises right across Melbourne.