Welcome To Best Carpet Cleaning Melbourne: Professional Results Every Time
Is your search for professional carpet cleaning services in Melbourne leading you to our doorstep? You've made the right choice! The Squeaky Clean Team has been serving both residential and commercial clients for over 15 years, boasting a stellar record of over 40,000 successful carpet cleans. Entrust us with your carpets, and we'll ensure they emerge spotlessly clean and fresh.
Eliminate bad carpet odours
Same-day professional carpet cleaning
Refresh and revive old carpets
Save precious time & money
A Comprehensive Array of Carpet Cleaning Services In Melbourne
At The Squeaky Clean Team, we take immense pride in offering an extensive range of carpet cleaning services meticulously tailored to cater to your unique needs. Whether you're seeking a one-room carpet cleaning treatment, a comprehensive commercial carpet steam cleaning overhaul for your 1,000m2 office space, or a deep and refreshing steam clean for your home, our experienced team has got you covered.
Book Same-Day Best Carpet Cleaning in Melbourne Now:
Expert Technicians: Masters of Stain Magic
In your quest for professional carpet steam cleaning near Melbourne, rest assured that our team boasts accredited technicians who are not merely experts but virtuosos when it comes to challenging stain removal. They're the magicians who ensure your carpets look as though they've just stepped off the showroom floor. Moreover, we prioritise your peace of mind by rigorously screening our technicians and providing comprehensive insurance coverage.
Safeguarding Your Carpet Investment: A Wise Decision
Your carpets are more than just floor coverings; they're investments in your comfort and aesthetics. Mishandling carpet cleaning can lead to irreversible damage. So, before you consider attempting a DIY carpet cleaning escapade, ponder this: our seasoned team possesses the skill and wisdom to expertly navigate the intricacies of preserving your carpet's precious fibres and vibrant colour. Remember, when it comes to carpet cleaning, you get what you pay for – choose wisely, choose The Squeaky Clean Team!
Transparent Quotes in the Blink of an Eye
Curious about the cost of carpet cleaning services in Melbourne? Our online quote system offers swift and transparent pricing information, catering to both single-room touch-ups and all-encompassing steam clean services. We believe in upfront communication and competitive pricing, ensuring you have a clear picture of the investment required to breathe new life into your carpets.
The Squeaky Clean Team proudly offers professional carpet cleaning for homes and commercial business premises in Melbourne and the Mornington Peninsula. Whether you're looking to sell your property and want to maximise buyer interest or it's simply time for an annual spring clean in the home or office, our professionals can get your carpets looking as good as new.
Best Carpet Cleaning Melbourne
Boasting a team of qualified technicians who can provide same-day services and the best prices right across Melbourne, The Squeaky Clean Team is the number one choice when you need carpet cleaning in Melbourne. Our experts have seen it all – from neglected grubby carpets that need sprucing up to flood-damaged flooring that has been underwater for days. We've brought a range of carpets back to their original condition with our professional carpet cleaning services.
We also offer expert upholstery cleaning so the next time your couch, sofa, or any upholstered furniture is looking a bit shabby give us a call!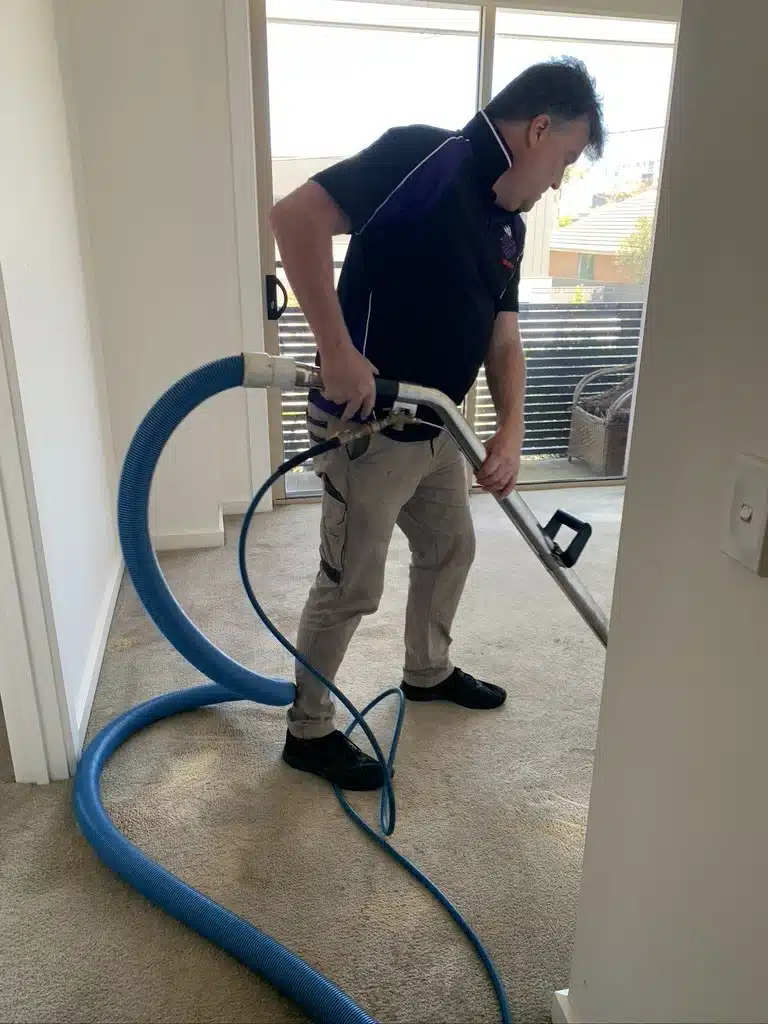 Before you attempt carpet cleaning in Melbourne yourself
If your carpet has become stained and you're tempted to clean it yourself, reach for your phone, not your household cleaner. Very often, our team is called out to Melbourne carpet cleaning jobs where a simple stain has been made worse because the wrong cleaning technique or product has been used. Many cleaning products do more harm than good, setting stains in place, creating permanent marks, or causing chemical damage to the carpet.
Even hot water has the power to set certain stains in place, making it much more difficult to successfully remove them. If you're unsure whether to use hot or cold water, a detergent, a specialised cleaning product, or a cleaning method that's been passed down the generations, you need to stop and call a professional who has the knowledge and experience to avoid causing further damage. Our professional cleaners can remove marks and stains in an efficient and reliable manner without leaving behind a trace or mark – or damaged carpet!
Call us first for carpet cleaning in Melbourne
When you need professional carpet cleaning that guarantees results, you need the Squeaky Clean Team. With our highly qualified technicians and thorough services, you can rest assured your carpets will be left looking their very best. Don't compromise on quality or risk damage to your carpets: Call in the professionals with the 110% Care Factor. Contact us today for a free quote and experience the transformational touch of our carpet cleaning expertise.
Remember, a cleaner, fresher carpet is just a call away.