Welcome to Melbourne's premier pet stain and odour remover services!
Are you tired of dealing with stubborn pet stains and unpleasant odours in your carpets? Look no further! Our professional carpet cleaning experts in Melbourne are here to rescue you from the clutches of pet-related messes and restore the freshness and cleanliness of your home.
At The Squeaky Clean Team, we understand that our furry friends can sometimes leave behind more than just love and happiness. Pet accidents happen, and their aftermath can be frustrating and challenging to tackle on your own. That's where we come in. With our specialized pet stain and pet urine odour remover service, we'll eliminate even the most stubborn pet stains and lingering odours, leaving your carpets looking and smelling as good as new.
Remove pet stains
Eliminate bad carpet odours
Same-day professional carpet cleaning
Save precious time & money
This is why you should entrust The Squeaky Clean Team to safely remove the pet stain and smelly odours from your carpets. Here's what sets us apart:
Expertise and Experience: Our team of highly trained technicians has extensive experience in handling pet stains and odours. We know the most effective techniques and use industry-leading equipment to ensure optimal results.
Pet-Friendly Solutions: We understand the importance of your pet's health and safety. That's why we use pet-friendly cleaning solutions that are tough on stains and odours but gentle on your furry friends.
Deep Cleaning Technology: Our advanced carpet cleaning technology goes beyond the surface, penetrating deep into the carpet fibres to eliminate stains and neutralise odours at their source. Say goodbye to temporary fixes and hello to long-lasting freshness.
Customised Approach: Every pet stain and odour situation is unique, and we tailor our services to meet your specific needs. Our technicians will assess the condition of your carpets and develop a customised cleaning plan to ensure the best possible results*.
Satisfaction Guaranteed: We take pride in our work, and your satisfaction is our top priority. If you're not completely happy with our pet stain and odour removal service, we'll make it right. Your carpets deserve nothing less than perfection.
Don't let pet stains and odours ruin the beauty and comfort of your home. Trust the experts at The Squeaky Clean Team to restore your carpets and create a clean and healthy environment for you and your beloved pets.
Contact us today to schedule an appointment or to learn more about our pet stain and odour removal service. Let us be your partner in maintaining a fresh and welcoming home for both you and your furry companions.
Book Same-Day Carpet Cleaning for Pet Urine & other Pet Messes Now:
Restore, refresh & revive your carpet
Over time, carpets can become dull, stained, and harbour allergens, affecting the look and feel of your home or business in Melbourne. But thanks to our expert cleaning techniques and state-of-the-art equipment, we can bring new life to your carpets.
Our professional carpet cleaning process effectively removes dirt, dust, and stains deep within the fibres, leaving your carpets looking as good as new. Not only does professional cleaning improve the appearance of your carpets, but it also extends their lifespan and creates a healthier indoor environment.
Restore, refresh, and revive your carpet for a cleaner, fresher, and more inviting home or workplace.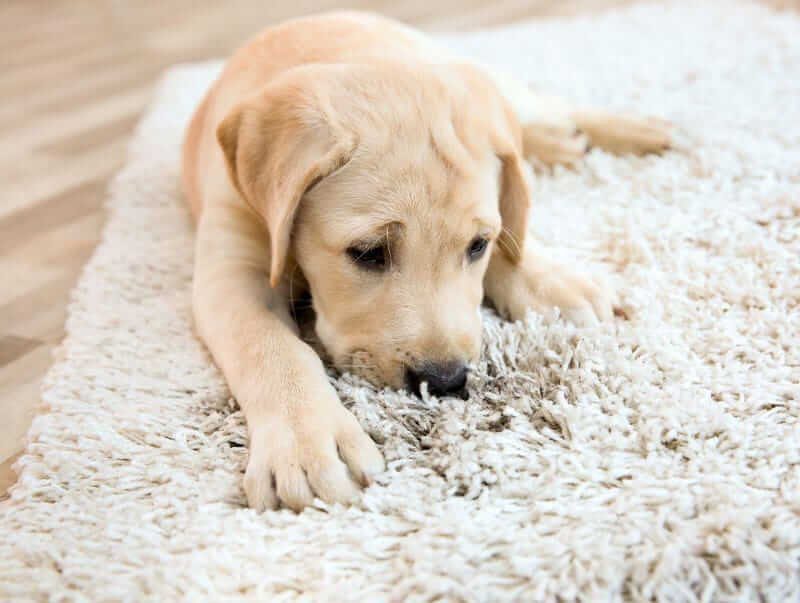 After pet stain and odour remover or 'liquid' stain like pet urine odour remover services please be aware of the following –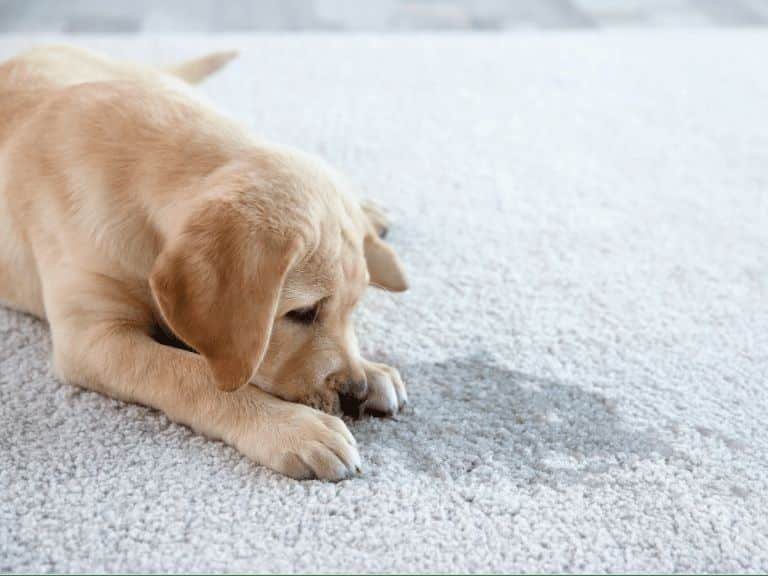 Scenario 1: Post Cleaning Urine Odour Gets Worse
If you have your carpets and furnishings cleaned and notice that the pet odour becomes more evident afterward, it could be due to hidden urine-soiled areas in your carpet. Cleaning the carpet can activate urine salt deposits, making the odour worse. This scenario can occur even days after the cleaning. If the odour persists after cleaning, it can usually be rectified by applying an odourcide product to the carpet or furniture, as long as the urine deposits are in the carpet fibres and not in the carpet backing, underlay, floorboards or subfloor. If the deposits are present in these underlying layers, the carpet will need to be lifted for further treatment.
Scenario 2: Stains Appearing After Cleaning
In some cases, there may be no apparent urine stains in your carpet or furniture, but stains appear after the cleaning is completed. This happens when urine deposits are dormant in the carpet backing or underlay and are "drawn" to the surface during the cleaning process. Since a carpet cleaner can only clean the carpet fibres and not the underlay or floorboards, the urine deposits can "wick" through to the carpet fibres overnight. To address this issue, a second clean may be required, where urine spot treatment chemicals are applied to the affected areas to resolve the stains. Please note, in extreme cases several visits may be required.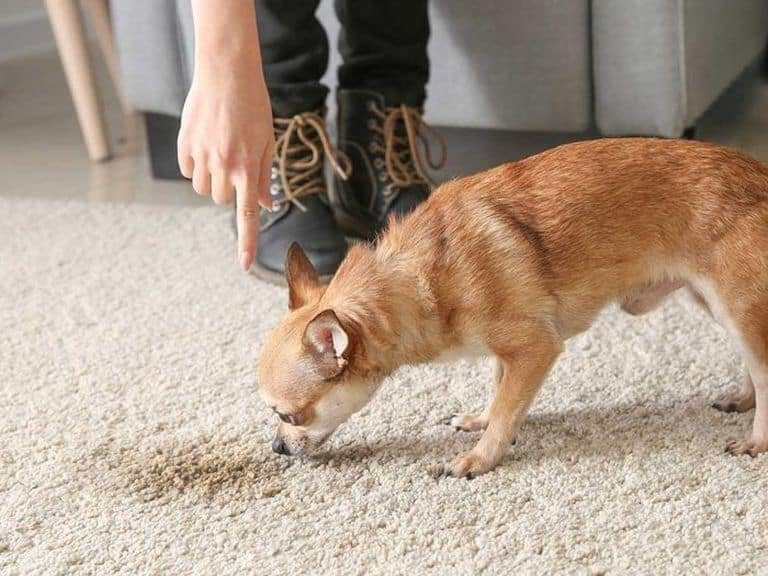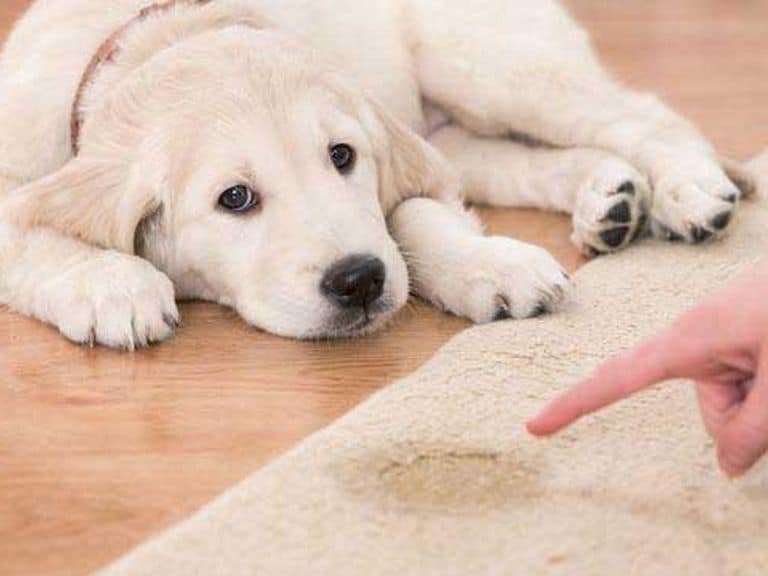 Scenario 3: Severe Contamination
Unfortunately, we're not miracle workers! If the carpet is heavily contaminated to the point where no amount of cleaning, deodorising, stain treatments, or other methods can eliminate the odour or stains, it may be necessary to dispose of the carpet and underlay. In such cases, it is important to treat the wood or concrete floor for stains & odour removal before laying new carpet and underlay.
Pet stain and odor remover services in Melbourne
When you have a young pup or an older dog, they can make a mess. But don't worry – the Squeaky Clean Team has the skills and equipment to remove pet stains and odours from carpets caused by dogs and cats.
Our highly trained carpet cleaners can help you with all your pet stain removal and cleaning needs. Most pet stains will be removed as part of our standard carpet steam cleaning process, but if our technician finds pet stains remaining after completion, we will assess the stain and suggest what can be done to treat it.
Pet stain & pet urine odour remover in Melbourne
Do you have a cat that you absolutely adore but still haven't figured out how to use the litter tray? Perhaps you have a dog that is too lazy to go outside to go to the toilet? Maybe you have a hamster, bird, or rabbit that likes to soil your carpets? If so, we're here to help!
It's time to say goodbye to scrubbing pet urine odour from your carpets and let us take over. We're The Squeaky Clean Team and we specialise in pet stain carpet cleaning in Melbourne. We service all suburbs and help homeowners rid their homes of the horrible odour and stains that are left as a result of pet urine. Carpet cleaning is our specialty so why not let our team do the hard work for you?
Does pet urine on carpet cause health risks?
Yes, leaving pet urine on carpet can pose some serious health risks. The following are just some of the reasons why getting your carpet cleaned professionally is necessary;
Ammonia – The strong smell of ammonia is always evident where there's pet urine on the carpet and whilst all urine contains some amount of ammonia, it is especially concentrated in cat urine. Over time, the presence of ammonia can harm people who have asthma, emphysema, COPD, and all kinds of allergies.
Bacteria Growth – If there are members of your family who have a weak immune system, the growth of bacteria may cause issues such as inflammation of the airways, watery eyes, and sinusitis. The older people and younger people in your family are the ones who are at higher risk of being affected.
Mould – Repeated stains that are not properly cleaned and thoroughly soaked may lead to the growth of dangerous moulds. Some kinds of moulds, such as penicillium, can lead to respiratory symptoms whilst other types, such as Aspergillus, may cause more serious long-term lung conditions.
Your solution for pet stain carpet cleaning in Melbourne
If it's time to finally rid your home of pet stains and pet urine odour remover from the carpet, we'd love to hear from you today. We are the go-to company for homeowners in Melbourne and we're confident that we can help you just like we've helped others. Why should you choose our team over other carpet cleaners in Melbourne? That's easy!
We are a locally based and community minded company
We are fully trained and experienced
Our rates are affordable
We treat your home as if it were our own
Our equipment is the best available to lift stubborn urine stains
We use products that are environmentally friendly and safe for you, your pet and your family
We can provide a same-day service
Our team is a friendly bunch of professionals who are dedicated to providing 110% customer satisfaction
Have a question about our carpet pet stain removal service?
If your carpets are full of pet stains, please call our team now to find out more about our carpet cleaning service. Remember; we service all of Melbourne and we offer the best rates around!
When is professional stain and odour removal necessary?
Pet stain and pet urine odour remover are usually only required for smelly heavy set stains. While the process of pet stain removal will be more expensive than a general carpet cleaning, it's worth it for the superior results & the fact that it will prolong the life of your quality carpet. We can also remove pet stains and odours from your upholstered furniture, ensuring both carpet and upholstery are left clean, fresh, and stain-free.
However, you need to be aware that when your gorgeous puppy or kitten does do an oopsie, the naughty thing will tend to choose the same spot every time. While we can clean the surface of the carpet, it's possible that some of your pet's naughtiness will go through to the underlay.
Fortunately, our technicians are expertly trained and will advise you on how to change your underlay – which is not expensive and will solve your pet odour problem.