Carpet blower hire in Melbourne
Whether you need Industrial drying fan or carpet dryer hire to dry your wet commercial premises, or efficient carpet drying machines to hire for your home. The Squeaky Clean Team has all the drying tools to get you dry.
If you want to manage the flood damage restoration yourself. Our carpet blower hire and dehumidifier rental service is available to help you get the job done right! Call now and our friendly team can help you formulate a plan of what you'll need to get your property dry.
Offering a full range of equipment to fix all drying needs. In addition, we also offer equipment package deals. So, call now we can help work out what equipment you will need to get dry fast.
We're the only company in Melbourne that also hires out a range of moisture meters & thermal cameras so that you can confidently track the drying progress. Our moisture meters will not only help you identify what's wet, but give you confidence and peace of mind that your property has been properly dried.
If the job feels too overwhelming, we also offer a full water damage restoration service for wet carpets and property throughout Melbourne and the Mornington Peninsula. Our team of experts will assess the damage, develop a restoration plan, and execute it efficiently and effectively, ensuring that your property is restored to its pre-damage condition.
In addition, free video assessment to help plan your water damage restoration
Above all, offering fast and reliable delivery service to your door
Moisture meters are available to ensure the job's done right!
Excellent customer service with a 110% care factor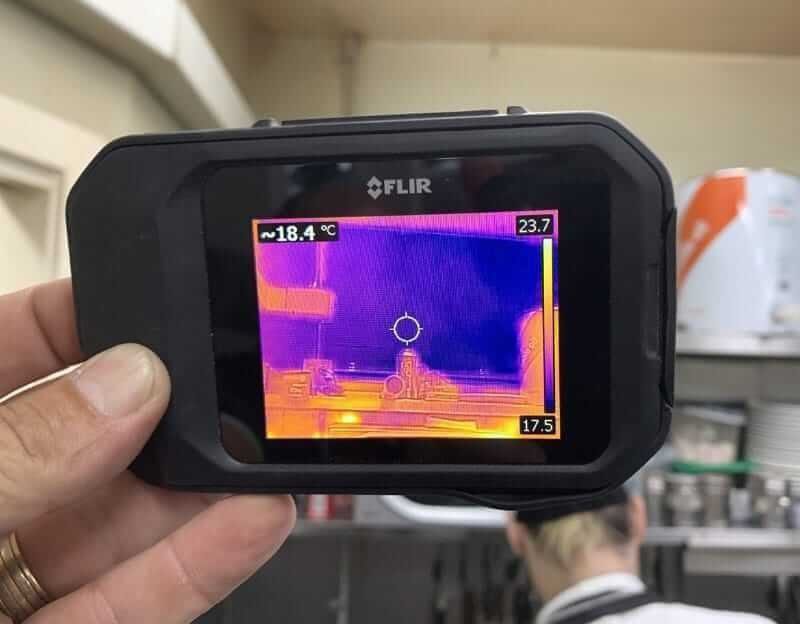 Act now before water damage impacts structural support
We take pride in providing excellent customer service and support, so if you need any assistance or advice throughout the restoration process. For that, we're here to help. Check out our reviews.
Don't let water damage take over your property. Contact us today to get our carpet blower hire including air movers and dehumidifiers or to inquire about our full restoration service. Above all, we're committed to helping you restore your property quickly and effectively.
In addition, we offer a wide range of water damage services, including flood-damage carpet cleaning and emergency carpet drying. After that, we also thoroughly dry out structures, such as walls, floors, and foundations, using evaporating moisture tools and equipment to ensure no further damage can take place. Trust our Melbourne water damage repair team to respond, repair and restore your property quickly and professionally.
For a FREE no, obligation quote
Melbourne prone to flood damage hire carpet blower
Whether your home or workplace has been damaged due to heavy rainfall, a burst pipe, or a bath overflow, we're here to help get you dry!
With our skilled technicians and state-of-the-art equipment, we can rapidly restore your home to its pre-flood condition in no time. Trust the Squeaky Clean Team to provide top-notch services and help you overcome the stress and discomfort of flood damage.
Water damage restoration should only be started if you know the physics of how drying equipment works! Firstly, the air movers or fans are used to pick up and circulate the moisture from wet surfaces. The dehumidifiers then extract the moisture from the circulating air. It is essential to use dehumidification; otherwise, absorbent materials in the room could soak up the moisture and become damaged. Air movers and dehumidifiers work together to get you dry!      
When it comes to dealing with moisture issues, pros rely on tools like thermal cameras and moisture meters for accurate readings. Water extraction tools, including water claws and powered wands, make quick work of removing excess water. Structural cavity drying systems target hidden moisture in walls. And, of course, air filtration devices with HEPA filters ensure clean air throughout the process. These tools are the go-to for effective moisture management.
For more information and advice on what you need to get dry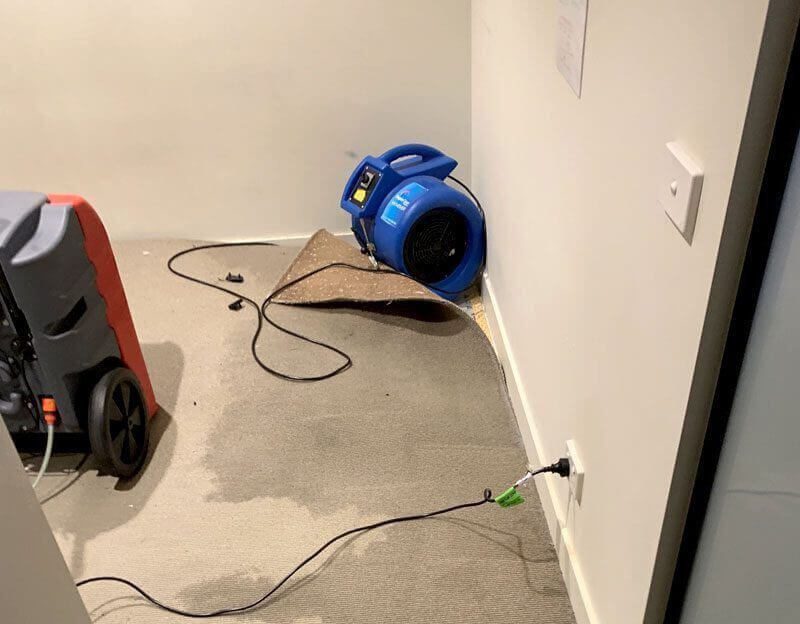 Carpet blower hire Melbourne
If you have flood or water damage in your Melbourne property and you're interested in fixing it yourself, The Squeaky Clean Team offers carpet blower hire service for Drying Equipment for hire. We have carpet blowers and dehumidifiers for hire and offer free advice to help you get the job done right.
To dry wet carpets and structures the combined use of dehumidifiers and air blower dryers will remove the moisture that has been absorbed. Extracting the water from your carpet's walls and skirting boards is key to limiting costly secondary damage to them. Enquire today to learn more about our available equipment hire options.
About our carpet dryer hire
If you need a carpet dryer hire to dry your carpet in Melbourne, there's no better choice than our professional fans. For that, we use the latest snail-shaped fans with three fan speed settings to allow for quick drying of floors, walls, ceilings, floorboards, concrete and wood subfloors, carpet, and underlay.
Moreover, each air mover available for rent undergoes thorough cleaning and sanitation between uses. Additionally, they are tagged and tested, providing you with peace of mind regarding their reliability and performance. Take advantage of our carpet dryer/air movers, available for hire at just $75.00 per unit per day (pick up).
About our dehumidifier rental
Equipped with our state-of-the-art DrizAir 1200 dehumidifiers, our drying process is seamlessly enhanced when paired with air movers. This dynamic duo efficiently targets various surfaces, including carpet, underlay, concrete, wood subfloors, plasterboard, walls, and ceilings. The DrizAir 1200 dehumidifier we hire has all the convenient features of its larger cousins in a compact and extremely portable size, making it a favorite of water damage restoration professionals across Australia.
Capable of extracting more than 55 liters of water per day, it allows for quick drying of floors, walls, and ceilings. All our machines are tagged and tested and also cleaned and sanitized between each use. Our dehumidifier hire rates start from just $150.00 per unit per day (pick up).
Why hire drying equipment from The Squeaky Clean Team?
The Squeaky Clean Team makes it easy to hire Drying Equipment. We are open 7 days a week, with pick-up and delivery available within Melbourne (additional delivery fee). As well as offering competitive hire rates, so we can also provide free advice if you want to DIY flood restoration. In addition, here are some reasons why Melbourne locals choose us when they need to hire dehumidifiers or air movers/blowers:
We're dedicated to providing friendly personal service and 'how-to' advice
We have years of experience helping property owners with flood damage
We have over 100 units available for large-scale jobs
Our models are more powerful than our competitors, meaning they get the job done faster
Our carpet blowers include handy features such as carpet clips for float drying, & to protect your carpet
All units are tagged tested and sanitised between jobs
We're available 24/7 for a fast emergency response
If you run into problems doing the job yourself, our professionals are available to get it done for you
Request a quote for dehumidifier and carpet blower hire today
Call The Squeaky Clean Team now on 1800 086 995 to learn more, request a quote, or get free advice on how to get dry and use a dehumidifier and fan carpet dryer to restore your property. Additionally, we provide a complimentary video call appraisal to offer you a clearer understanding of the necessary steps to ensure a thorough drying process.
Our skilled technicians, coupled with state-of-the-art equipment, swiftly work to restore your home to its pre-flood condition. Count on the Squeaky Clean Team for carpet blower hire service, As a result, alleviates the stress and discomfort associated with flood damage.
Moreover, it's important to note that if you ever feel overwhelmed or uncertain about the situation, our team is just a call away, ready to provide professional assistance. Your peace of mind is our priority.
POPULAR EQUIPMENT HIRE PACKAGES