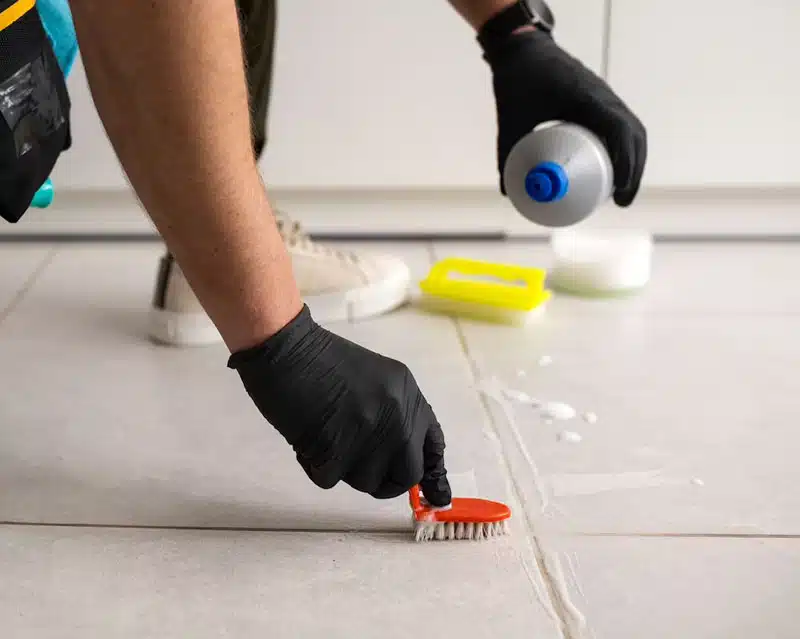 Tile and grout cleaning Melbourne: restoring shine and brilliance one tile at a time
Our team of highly skilled cleaning specialists provide professional tile cleaning in Melbourne for your home and business
For more than 17 years, The Squeaky Clean Team has been providing a range of cleaning services throughout Melbourne, including tile and grout cleaning.
Our tile cleaners in Melbourne use a process of high pressure steam cleaning that efficiently removes dirt, mould, and bacteria, restoring shine and cleanliness to your floor and wall tiles.
We employ the latest industrial cleaning products, trends, and technologies to get your property cleaner than you ever thought possible!
Comprehensive tile and grout cleaning services
Floor tiles and grout can accumulate masses of dirt and debris, while wall tiles (such as in the kitchen) can become coated in food and grease, and shower walls coated in soap scum.
Tiles are also commonly used in the bathroom where the grout, and the tiles themselves, collect grime and mould. Eradicating these on your own can be a difficult job!
Fortunately, The Squeaky Clean Team is here to help with our superior cleaning solutions for tile and grout. We can safely and effectively treat most types of tiles, including both glazed and natural types. These include:
Ceramic
Porcelain
Slate
Terracotta
Granite
Vinyl
Limestone
Travertine
Marble
When it comes to professional cleaning services, we leave no room for compromise. Our team pays meticulous attention to detail. The result is a deep, effective clean and outstanding results, while reducing the risk of any damage to your tiles.
Whether you need tile cleaning in your residential or commercial property, rely on our industry-leading technicians to leave your tiles and grout clean, shiny, and hygienic.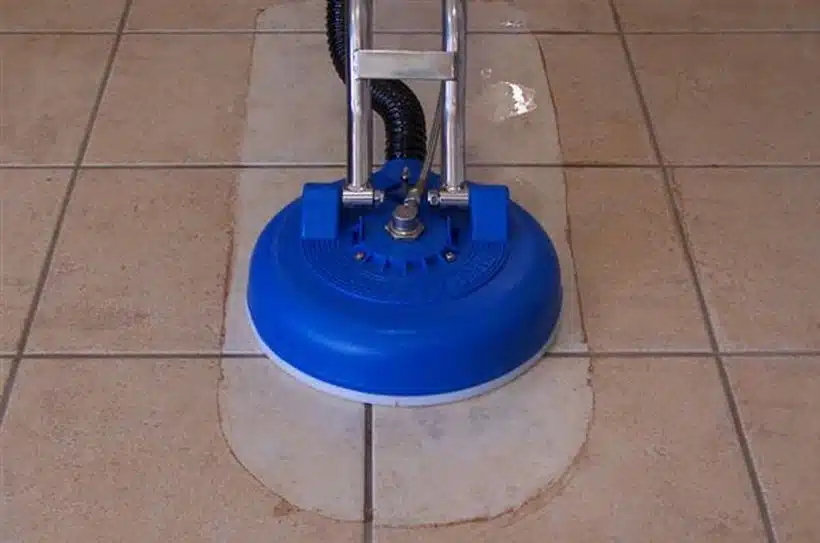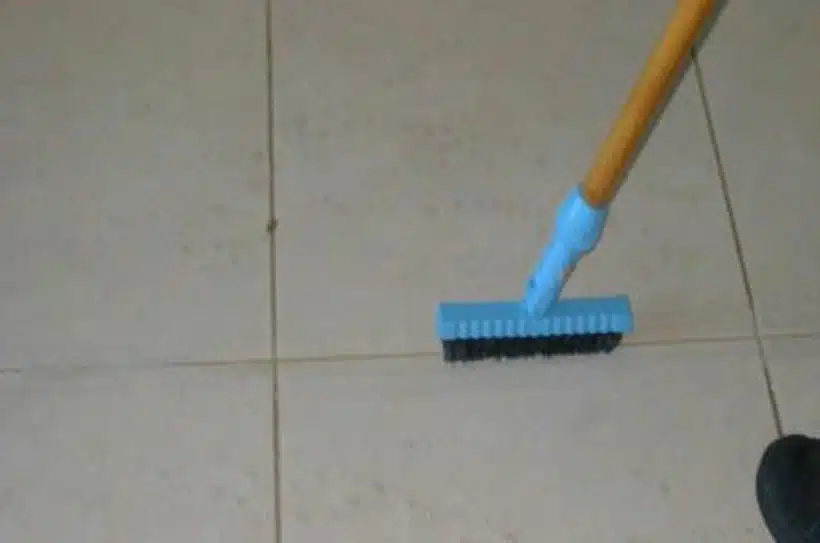 Tile and grout cleaning services
The Squeaky Clean Team provides a range of residential and commercial tile cleaning and grout cleaning services across Melbourne's South Eastern suburbs and the Mornington Peninsula. Click through to learn more about these specialized services.
Tile cleaning FAQ: your common questions, answered!
Grout is the material used to fill gaps between tiles.
Grout consists of several different construction components, depending on how it will be used.
For example, grout for wall tiles will differ in composition from floor tile grout. The problem with grout and tiles is that they collect dirt and grime very easily.
How often should I have my tile and grout professionally cleaned?
For bathrooms and kitchens at home, our tile and grout cleaners recommend cleaning once a year. The build up of dirt will depend on factors such as the amount of dirt being walked into the house as well as how often you wash down your tiled surfaces
More frequent cleaning is recommended for commercial settings, in particular food services areas like cafes, bars, and restaurants. We also recommend our tile and grout cleaning services for changing rooms and showers in fitness centres.
How long does the tile and grout cleaning process typically take?
The duration of professional tile and grout cleaning can vary depending on a number of factors. These include:
Size of the area to be cleaned
Type of tiles (material and size)
Severity of dirt, stains, and grime
We invite you to give us a call to discuss your needs and for a better indication of the work required.
Can professional tile cleaning also help to remove odours?
Over time, dirt, spills, and other contaminants can accumulate in grout lines and on the tile surface, leading to unpleasant smells.
Thorough cleaning and the use of specialised cleaning agents will eliminate these odour-causing elements, leaving your space clean, fresh, and hygienic.
What are the benefits of professional tile and grout cleaning?
Clean tiles are healthy tiles!
In order to keep your property hygienic, clean tiles and grout are a necessity. If you neglect your tiles, they will continue to accumulate mould spores that can cause serious health problems.
The Squeaky Clean Team uses a process of high pressure steam cleaning that efficiently removes dirt and stops bacteria growth.
Additionally, professional maintenance will help to protect and expand the life of your tiles.
Will tile cleaning remove mould from the silicon seal around my shower?
Unfortunately no. While mould will sit on the surface of tiles and grout, it actually eats into silicon. The only way to remove from the silicon seal is to cut out and re-seal the affected area with new silicon.
Expert tile cleaning in South Eastern suburbs, Melbourne
Our team is based across Melbourne's South East, and our service area is expansive.
Explore our other cleaning services, including:
The Squeaky Clean Team is on the move daily helping home and business owners just like you enjoy a cleaner, more hygienic, and more pleasant indoor environment.
Whether you want regular cleaning or have suffered from stains, inks, dyes, or other water damage, remember The Squeaky Clean Team name!