Fast and effective carpet drying service by expert technicians
Not All Floods Need To End In Tears!
Welcome to The Squeaky Clean Team, your trusted provider of professional water damage restoration services. We specialize in fast and effective carpet drying, employing advanced techniques and state-of-the-art equipment to ensure thorough restoration and prevent further damage to your carpets. Our expertise goes beyond just drying carpets – we also prioritize saving you both time and money.
Don't let water damage destroy your property and possessions
At your door in 60 minutes or less
Melbourne water damage experts
Emergency carpet drying technology
Save time and money with float drying carpet
At The Squeaky Clean Team, we understand the value of your time and the importance of cost-effective solutions. That's why, when feasible, we recommend float drying as it not only expedites the drying process but also leads to significant cost savings. By slightly lifting the carpet and placing air movers underneath, our skilled technicians create airflow across both sides of the carpet, promoting faster drying from the bottom up. This efficient method allows us to save you valuable time and reduce the need for additional drying equipment, resulting in substantial cost savings for our valued clients.
With our commitment to excellence and cost efficiency, you can trust The Squeaky Clean Team to deliver exceptional results while keeping your time and budget in mind.
Call our friendly team now for free advice or a VIDEO call so we can assess your damage & advise you on what needs doing to fix the water damage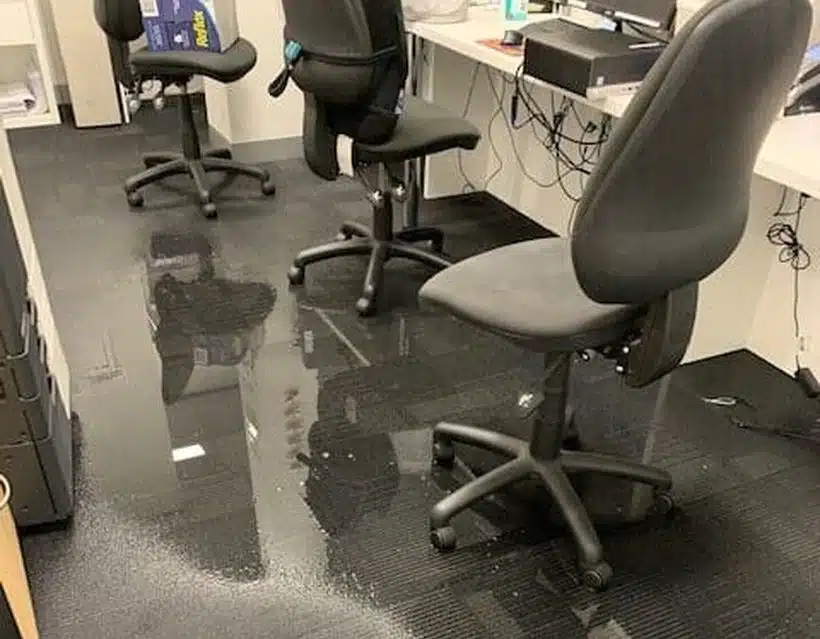 We offer a wide range of water damage drying services, including flood-damage carpet cleaning and emergency carpet drying. We're also equipped for Structural Drying for when your walls, floors, and foundations need drying using evaporative moisture tools with air movers to ensure no further damage can take place.
Trust our Melbourne water damage repair team to respond, repair and restore your property quickly and professionally.
Our expertise is in flood, water & fire damage cleaning, and restoration services. Whether you have a small domestic flood or large commercial facilities, we're equipped to get your property professionally restored.
Our portfolio of clients includes healthcare, education, hospitality, building sites, body corporates, industrial sites, and commercial buildings. We've worked with clients like MS, SVDP, Gary Peer, Cricket Australia, Medical Centres, Schools, and hotels.
We will restore damage from – Burst pipes, Burst Hot Water Service, Stormwater, Sewage Back flow, Washing Machine Leak, Bath overflows, and Fire & Mould Damage.
For a FREE no, obligation quote
Squeaky Clean Teams' Key Features and Benefits
Our Proven Carpet Drying Process
Experience our comprehensive and reliable carpet drying process, designed to deliver exceptional results for your water-damaged ca
Emergency Call: Swiftly Reporting Water Damage
Contact our dedicated emergency hotline to report water damage and request immediate assistance. Our team will respond quickly and arrive at your location fully equipped to begin the restoration process.
Assessment and Documentation: Thorough Evaluation for Insurance Purposes
Our technicians conduct a thorough assessment of the water damage, documenting the affected areas, including your carpets, for insurance purposes. This documentation ensures a smoother claims process and helps you receive the coverage you deserve.
Water Extraction: Removing Excess Moisture
Using powerful pumps and extractors, we efficiently remove standing water from your carpets, preventing further saturation and laying the foundation for effective drying.
Drying Equipment Setup: Optimizing Airflow and Humidity Control
We strategically position high-velocity air movers and dehumidifiers to create optimal airflow and humidity control for efficient carpet drying. This setup accelerates the drying process, ensuring quick restoration.
Float Drying or Top Drying: Tailored Approach for Your Carpets
Depending on the situation, we employ the most suitable method for your carpets—float drying or top drying. Our experts assess the conditions and select the approach that will yield the best results.
Continuous Monitoring with Hydro-Sensor Equipment: Ensuring Thorough Drying
Throughout the process, our technicians utilise specialised hydro-sensor equipment to monitor moisture levels accurately. This meticulous monitoring allows us to identify hidden moisture pockets and guarantee thorough drying.
Sanitisation and Deodorisation: Eliminating Contaminants and Odours
Once the carpets are dry, we go the extra mile to ensure complete restoration. Our team sanitises the carpets, eliminating potential contaminants, and applies deodorisers to eliminate any lingering odours, leaving your space fresh and clean.
Final Inspection and Restoration Completion
We conduct a final inspection to ensure your carpets are thoroughly dry, clean, and restored to their pre-damage condition. With the carpet drying process complete, we provide you with a detailed report and assist with any necessary follow-up steps, such as repairs or carpet replacement.