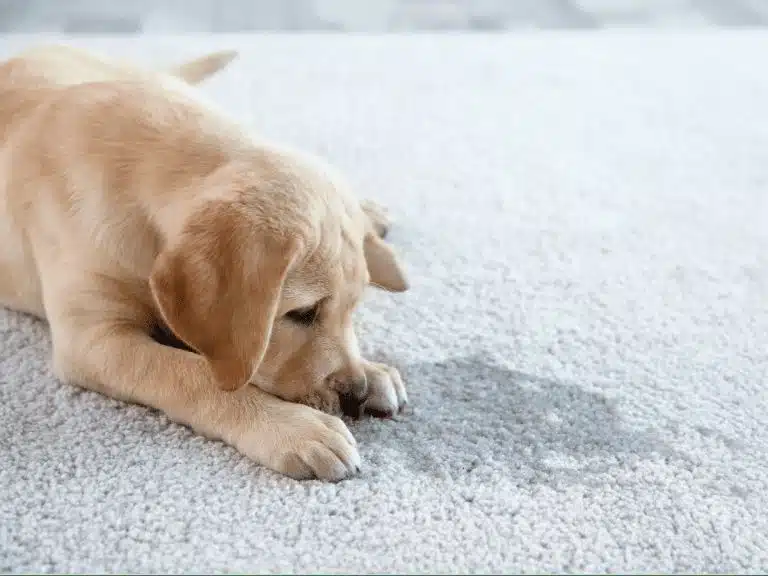 Pet Stains & Odours
Pet Stain Removal in Melbourne
Pet Urine Removal: Restoring Freshness to Your Carpets
Pet urine can wreak havoc on your carpets, causing staining and bad smells. Urine will affect not only the carpet but also the underlay padding and even the subfloor. A quick steam clean of the carpet is unlikely to remove the stain or smell.
When it comes to pet stains, especially pet urine, it's crucial to address them correctly to avoid the costly and time-consuming process of carpet replacement. To do the job right, you need a skilled technicians equipped with the knowledge and tools to remove all pet stains and odours.
At The Squeaky Clean Team, we understand the unique challenges posed by pet urine and offer specialised solutions to effectively remove it from your carpets.
Breaking Down Urine Crystals
Pet urine forms crystals that tightly bond with carpet fibres and surfaces, making them difficult to eliminate. That's why we utilise a specialised product designed specifically for this purpose. This product needs to be applied over a period of time. By neutralising and eliminating the odour-causing components of pet urine, we ensure a thorough and comprehensive cleaning process.
Flushing Out the Urine
It's not just the urine on the surface that needs attention. The urine trapped in the underlay and flooring beneath must also be addressed. To achieve this, we employ a specialised tool known as a water claw. This tool allows us to apply the specialised product and extract the urine from deep within the affected areas. By using the same product throughout the process, we ensure a consistent and effective cleaning result.
Preventing Browning
Proper drying is essential to prevent browning, which occurs when carpets remain excessively wet. To expedite the drying process, we may recommend the use air movers that circulate air and facilitate quicker evaporation. This prevents the development of unsightly brown stains, preserving the pristine appearance of your carpets.
Thorough Steam Cleaning and Sanitisation
Once the urine has been removed and the carpets are dry, we proceed with thorough steam cleaning and sanitisation. Our advanced steam cleaning techniques penetrate deep into the carpet fibres, effectively eliminating bacteria, allergens, and other contaminants. You can trust that your carpets will be left not only clean but also hygienic, creating a healthier indoor environment.
Trust The Squeaky Clean Team for Expert Pet Urine Removal
When it comes to pet urine removal, The Squeaky Clean Team is your reliable partner. Our experienced technicians have the knowledge, expertise, and specialised tools to tackle even the toughest pet urine stains. We go above and beyond regular carpet cleaning services, employing specialised techniques to ensure a thorough and effective cleaning process.
Bid farewell to pet urine odours and stains. Contact us today to schedule your professional carpet cleaning service and experience the difference we can make.